Become a volunteer
Become a volunteer tutor
Tutoring is a wonderful opportunity to make a real and lasting difference in someone's life and to change your own life in unexpected ways.
LVM tutors are dedicated, patient, flexible and encouraging volunteers who create a positive learning environment where adults can thrive and learn without embarrassment.
Volunteers attend a 2-hour orientation and an 18-hour training before being matched to tutor for 2 hours per week for 9 to 12 months. LVM's professional staff provides ongoing support and sponsors activities to help both the student and tutor succeed and achieve the student's goals.
Volunteers must be over age 18 and have a high school diploma or its equivalent.
For more information about the LVM program near you >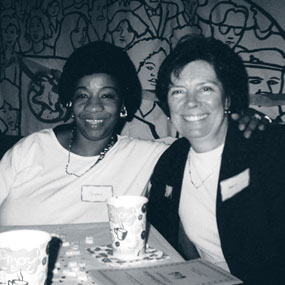 Become an administrative volunteer or intern
Sometimes people would like to use their expertise to help promote adult literacy, but tutoring isn't the best fit for either their interests or schedule. There's still a way for you to help.
College interns and administrative volunteers have provided important assistance in fundraising, event planning, public relations, special projects, technology, student assessments, desktop publishing, graphic design, the resource library and general office support.
Administrative volunteering is flexible and provides valuable experience working in a nonprofit organization.
Contact the LVM program location near you to see
how you can help >