Hear our stories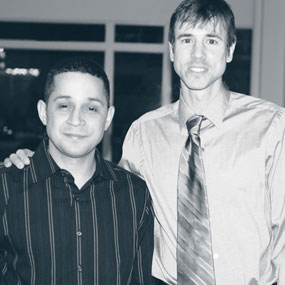 Carlos and Max
Max was initially drawn to Literacy Volunteers of Massachusetts because of the huge impact reading can have on a person's life. In the time he's worked with his student Carlos, he's come to believe "that the work that LVM supports is life at its best: to dream big, work hard, and create the life that we want."
LVM is Life at Its Best
"I'd like to tell you about my experience as a tutor with Literacy Volunteers of Massachusetts. I was originally drawn to literacy tutoring because of the huge impact reading can have on a person's life. But, in the time that I've worked with Carlos, I've found the experience to be enjoyable and personally beneficial in ways that surpassed my expectations.
One of the most important benefits of being a tutor is that I've developed a friendship with Carlos that I value very much. We have met for 2 hours a week, almost every single week, for over two years. And although most of that time has been spent on reading and writing, you can't spend that much time with someone without getting to know them pretty well. From our first meeting, I knew that Catherine had made a good match in putting us together, and we quickly became friends. I enjoy our weekly meetings and the occasions our families get together (most recently last week at Carlos's for the 4th of July). I have also developed immense respect for Carlos's energy and enthusiasm to learn, work, and achieve his goals. Carlos, as he will describe, is also a fitness professional, and he has been sharing with me his vast knowledge of health, fitness, and nutrition. As part of this, we end each session with him teaching me some Tai Chi and lately even a little Tae Kwan Do.
Additionally, because of our friendship, I have become intimately involved in Carlos's endeavor. I think that all LVM students are doing ambitious work by taking on challenges and striving towards life-changing goals. And, although the students do the hardest work, LVM tutors have the opportunity to be part of this. We get to witness and share the experience in a way that I think is rare in the rest of life. To hope, to discuss the challenges and strategies, to enjoy the small accomplishments along the way, to look forward to the realization of goals, and to savor them as they come to fruition. I believe that the work LVM supports is life at its best - to dream big, work hard, and create the life that we want. And as a tutor, I feel privileged and grateful to be a part of this.
So, I'd like to thank Carlos for working with me and inspiring me, LVM for bringing us together, and all of you for helping make it possible.
I'm very impressed at all he has accomplished in a short time. And I've had the opportunity to hear from a lot of other current LVM students, and I've heard great stories about things like gaining citizenship, getting a driver's license, and going to college. So, my expectations about the value of this work have been met, and I feel very good about making such a positive contribution to my community."