Hear our stories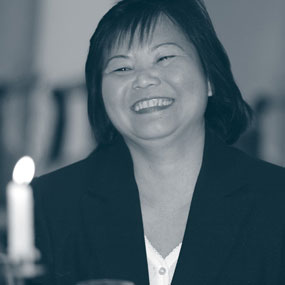 Anna
When she started working with her tutor, Anna could hardly speak or understand any English, had no job and no permanent housing. Now, she has a full-time job she enjoys that allows her to support herself and her daughter and her own apartment. She has even attained her U.S. citizenship.
Hello!
"My name is Anna. I am from Vietnam.
When I came to the United States, I had class in Chinatown Monday - Friday but I didn't understand the teacher. The class was big and the teacher didn't have time for all the students. I didn't know how to write or speak English before I came here. I came to the literacy volunteers in 2001. The first teacher I had was Kathryn. She showed me a picture in a book but I didn't know how to talk about it in English.
The first time my tutor spoke English I didn't understand anything. I could not read a letter. I could not write well. I didn't know the 26 letters of the ABC. I didn't know how to read. My tutor, Kathy, helped me write and learn. She would read to me and I would listen. I would remember what she said about how to read and speak. I had a tutor at the volunteer school. I learned a lot. I learned English. Now I can speak English and write. I'm so happy because I understand English.
I wanted to be a citizen but I needed help. The test was very hard with 100. I asked the literacy office to help me with the questions for citizenship. I did it! I passed the test. I am so happy because I passed. This was very exciting.
Now my tutor's name is Trudy. She is a wonderful tutor. She shows me how to fill out forms for jobs. She helps me with reading and speaking. In the United States, if I don't speak English or write, I cannot find a job.
I will never forget the literacy volunteers because my tutor helped me learn a lot of English. I keep them in my heart. I will never forget it here because English is very important. I want to learn more English.
I hope that 15 Court Sq. continues to help people to learn English. Thank you so very much!"